25 June 2021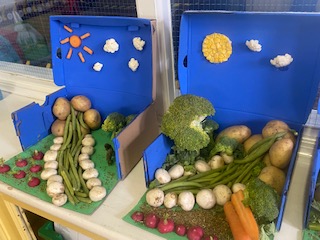 SHOE BOX ART
Year 1 have found out about an artist called Carl Warner.
Carl Warner was born in Liverpool but lived most of his childhood in Kent. As a child he spent a lot of time in his bedroom listening to music, drawing and imagining places. He started life as an illustrator but eventually found photography much more interesting. He started to create pieces of art using food. He creates magnificent landscapes using all types of fruit, vegetables, meat, bread etc.
This week, we have created some of our own amazing pieces of art in the style of Carl Warner. Our favourite one was creating our own landscapes out of fruit and vegetables in a shoe box. We hope you like them too!