12 April 2021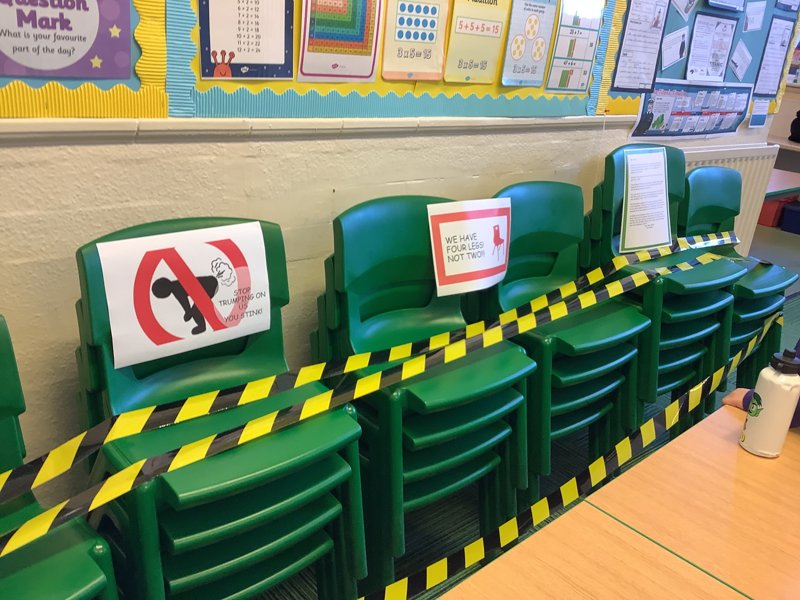 Today, Year 2 entered the classroom to discover that all of the chairs had gone on STRIKE! The chair had written a letter to the class detailing their complaints (see below). The children were upset with the chairs, especially Mr Loynds's chair because it DIDN'T go on strike with the others! The children had to write a persuasive letter to the chairs asking them to come back to work, in the KS1 hall instead of the classroom... Luckily, when the children returned to class after play, the chairs had decided to come back to work :)
This was the letter:
Dear Year 2,
ENOUGH IS ENOUGH!! We have stacked ourselves up so don't even think about touching us! We just CAN'T take it any longer. After the relaxing two weeks holidays, without any children, we have all decided to go on strike!
Five days a week we have to put up with you lot treating us like you just…don't…CARE!
From Monday to Friday, we put up with you CHEEKY children rocking backwards and forwards on our legs. HOW WOULD YOU LIKE THAT EH? We feel sick by the end of the day!
Every day we see your teacher ask you to stop…BUT DO YOU? NO!!! And then you get upset when you fall backwards onto the floor and hurt yourselves…WELL TOUGH! IT'S YOUR OWN FAULT!
Don't even get us started on the trumps you guys do on us after lunch! Goodness! The stench! How would you like it if someone sat on you and trumped all afternoon? We might even write to Jane and persuade her to stop feeding you all baked beans at lunch time!
So today you are all going to have to do your work without us and realise how much you need us. We demand an apology! And be warned, if we don't get one, we have spoken to the tables and they said THEY WILL BE NEXT! Did you think you got away with making mess and scribbling on them?
Your angry friends,
THE CHAIRS!